Publications
New publications on the journal of the Elsevier Verlag June 2011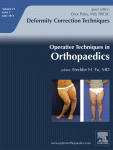 Open-Wedge High Tibial Osteotomy with a Locking Plate (TomoFix) for Treatment of Medical Monocompartment Osteoarthritis
Operative Techniques in Orthopaedics, Volume 21, Issue 2, June 2011, Pages 156-162
Alex E. Staubli
Osteotomies Around The Knee: Indications—Planning—Surgical Techniques Using Plate Fixators
Written by leading surgeons with expertise in performing osteotomies around the knee, this book is an essential reference for the current techniques in joint-preserving knee surgery. The book opens with a thorough discussion of physiology, pathophysiology, clinical evaluation, and imaging. It then describes the indications and basic principles of treatment and provides a detailed planning algorithm for high-tibial osteotomy. Separate chapters cover various clinical applications, addressing important topics ranging from the effects of osteotomies on cartilage pressure in the knee to management for failed osteotomies around knee. The book also discusses the latest technological developments in the field, such as computer-assisted navigation and the development of plate fixators.
Features
Clinical insights and practical tips from experts in the field
Detailed presentation of surgical techniques
Numerous high-quality images and illustrations demonstrating key concepts
Discussion of how to manage complications after high-tibial opening-wedge osteotomy
Publications in medical journals (© Springer Verlag 2009)
Osteotomies of the knee joint in patients with unicompartmental osteoarthritis
Authored by: S. Hofmann, P. Lobenhoffer, A.E. Staubli, R. van Heerwarden
(2009), Der Orthopäde, 38 (8): 755-769. German.
Abstract:
The basic principles of biomechanics, patient selection, proper planning, safe intraoperative technique with stable osteosynthesis, and early functional rehabilitation are the key factors for successful osteotomies around the knee. An individual unloading of the involved compartment should be the goal of this procedure.
Several different osteotomy techniques have been described in the past. On the tibia, the modern opening-wedge osteotomies offer significant advantages compared with the classical closing-wedge osteotomies. At the femur, closing-wedge medial and lateral osteotomies for varus and valgus malalignment are still the standard. Except for a few studies with selected patients, the long-term results of osteotomies around the knee are worse compared with the outcomes of unicondylar joint replacements. With the use of new biomechanical concepts together with modern osteosynthesis, osteotomy results can improve significantly.
Therefore, osteotomies around the knee remain the gold standard for middle-aged and active elderly patients with unicompartmental osteoarthritis of the knee.
Evolution of open-wedge high-tibial osteotomy: experience with a special angular stable device for internal fixation without interposition material
Editors: A.E. Staubli, H.A.C. Jakob
Abstract:
Surgical correction of bowed legs should be performed as early as possible. Overload osteoarthritis, even without significant varus deformity of the knee, is a further indication for open-wedge high-tibial osteotomy. Progression of damage to the joint surfaces due to overloading can be significantly retarded by realigning the extremity with the aim to, at least, reduce overload on the medial compartment to a value close to physiological.
We believe that open-wedge high-tibial osteotomy using Tomofix plate has proved to be successful in treating unicompartmental gonarthrosis, even without bone grafts or bone-substitute material.
Bibliography